---
Seamless on-premise, cloud and remote integration.
---
Unify hub is a platform designed to meet all the challenges of today's production and work environments. Available as a stand-alone or software upgrade to an existing GB Labs appliance.
---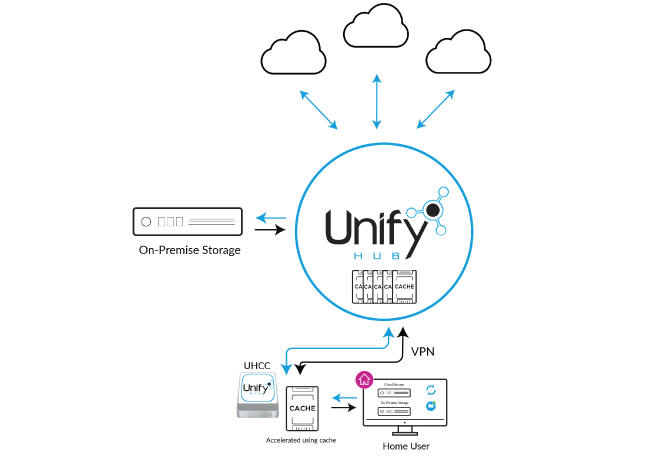 Remote Working
Mobile ready
Connects on-premise workspaces and cloud services to remote users. Provides remote workers with a seamless on premise experience, regardless of location.
Fast data access: Works in conjunction with remote workers local storage to provide accelerated and self-managing caching area.
Secure: Authenticated access with secure connection protocols.
One set of data: One set of 'Work in progress' (WIP) data, easy to manage and implement backup and DR strategy.
Scalable: Highly scalable - Add more workstations with instant access to one set of data.
Flexible:Works with all GB Labs storage and can be used with most NAS/SMB storage and cloud storage accounts configured within Unify Hub.
Unify Hub Client Software: GB Labs provides (unlimited user) client software to mount and synchronise the storage that a remote Unify Hub can see.
Bi-directional synchronisation: Home users are kept in sync with the central set of data in the on-premise storage.
---
Cloud Integration
Aligns the local user permissions with cloud accounts to facilitate single sign-in and simplify the secure access of cloud accounts on-premise. Leverages GB Labs technology to speed up the user experience, as well as reducing costs and saving internet bandwidth.
Simplified user management: Local 'Users and Groups' can be assigned to access Cloud end points that are pre-authenticated and mounted by Unify Hub using standard network protocols, without the need to install client tools.
'One pane of glass' data visibility: Use the Unify Hub File Manager to view, move, copy and organise cloud and on-premise storage, all from one view.
Accelerated cloud access: Unify Hub harnesses the power of a dedicated internal Flash Cache array, providing an invisible area that accelerates in a similar way to HyperSpace.
Smart cache saves egress: With up to 30TBs of Flash Cache, regularly used files do not need to be repeatedly egressed. This is fully automated and managed to ensure only one true copy of data is in sync at all times.
Connect office to Cloud: Cloud services and cloud storage can securely interact with your office storage negating the need for cloud provisioned storage.
Saves time and money: Once data has been accessed once from Cloud locations it is held in Flash Cache. Repeat requests for that same data will be supplied from Flash Cache giving fast and egress free access.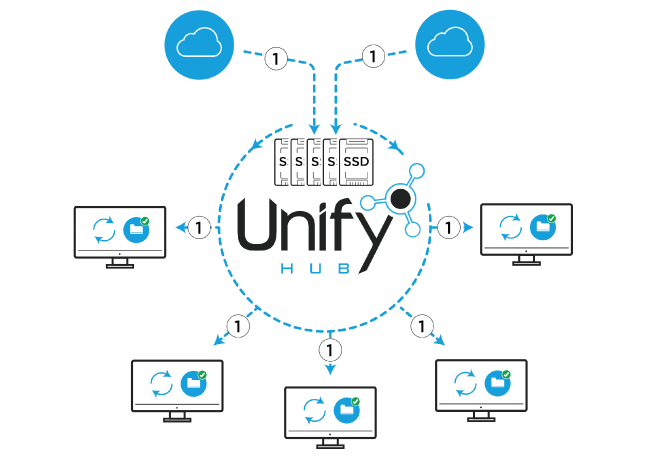 ---
---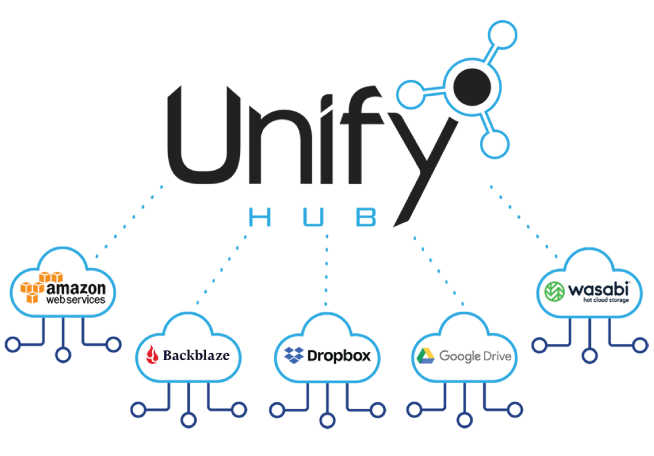 GB Labs Technology Partners
Amazon Web Services S3 Storage
Backblaze B2
Dropbox and Dropbox for Business
Generic S3
Google Drive
Wasabi
Additional workloads

Microsoft SQL Server clusters
Microsoft Exchange clusters
MariaDB
MySQL
Oracle DB
SAP HANA
---
Innovative leader in the data protection industry
---