---
---
Secure your business with best-in-breed file backup and recovery
With data storage, there's no size that fits all. From varying industries, compliance and regulatory requirements or budgetary allocations, there're different dynamics that inform a suitable solution and our approach seeks to meet the client at their point of need.
At the core, you can't recover data and applications you haven't kept.
That's why maintaining current copies of data and applications is a must for ensuring business continuity. You need a way to keep your business running in the unfortunate event of an outage or if data should otherwise get lost or corrupted.
We are implemeting partners for leading data storage vendors including Acronis, Seagate, Zoolz Bigmind, GB Labs, among others. Our solutions are tailored for all business verticals and sizes.
---
Preserve backup integrity
The world of cyberthreats evolves quickly — so should your approach to file backups. Criminals now target backups specifically in an attempt to prevent easy recovery, increasing their leverage over victims. Acronis' solutions integrate data protection with threat-agnostic cybersecurity, enabling unique interactions like the scanning of backups for malware and ensuring that you'll always have clean and accessible copies of business-critical data.
Solutions by Use case
---
---
Solutions By Industry
---
---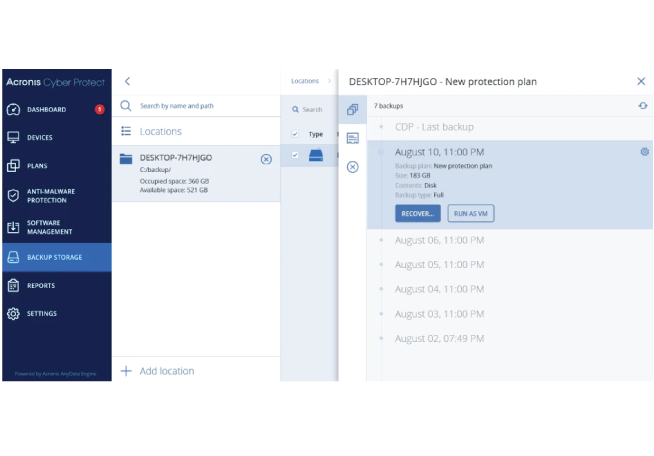 Recover within minutes
When disaster does strike, every second counts. Downtime and data loss are expensive prospects for any business, and can lead to lost sales, reputational harm, even regulatory fines. Acronis' cyber protection agent monitors and backs up all changes to critical applications and files in real-time, allowing you to choose a recovery point just seconds before the incident occurred, while Acronis Instant Restore enables industry-best RTOs by immediately launching your backup as a virtual machine.
Ensure comprehensive cyber protection
As your employees demand more from their IT services, it's all too easy to wind up with a complex patchwork of tools — one that's tough to learn and tough to maintain. Acronis' all-in-one solutions integrate anti-malware protection with data backup and endpoint protection management. This unique approach eliminates protection gaps and enables seamless remediation — no need to juggle multiple solutions.