Acronis Advanced Management
---
Simplify client protection management and patch automation
Spend less time juggling solutions and more time focusing on protecting your clients' data, applications and systems. Adding Advanced Management to our integrated Acronis Cyber Protect Cloud solution enables automated patch management and easy work planning to reduce your administrative burden.
Integrated
patch management
Keep client systems up-to-date and close security gaps with integrated vulnerability assessments and patch management.
Patch management automation
Save time and effort with automated patch management for more than 200 supported applications and fail-safe
patching technology.
Comprehensive management tools
Streamline your planning with software inventory collection, report scheduling, and drive health monitoring.
---
All you need to manage your clients' protection, integrated in a single solution
Centralize your protection management with a single solution that integrates backup, cybersecurity and endpoint management: Acronis Cyber Protect Cloud. With the Advanced Management add-on, the integrated patch management and comprehensive toolset enables you to consolidate solutions, proactively close security gaps, and improve your uptime – saving you time and effort.
---
---
| Features | Acronis Cyber Protect Cloud | With Advanced Management |
| --- | --- | --- |
| Centralized and group management | | |
| Auto-discovery and remote agent installation | | |
| Security gaps and vulnerability assessments | | |
| Hardware inventory collection | | |
| Remote desktop and remote assistance | | |
| Automated patch management – close vulnerabilities before they're exploited | | |
| Software inventory collection: Save time and effort when preparing, planning, or tracking updates with a complete list of software used by clients | | |
| Drive health monitor: Proactively mitigate downtime caused by drive failure with predictive monitoring and alerts | | |
| Fail-safe patching: Recover from faulty patches quickly and easily with automatic system backups before patching | | |
| Report scheduling: Demonstrate the value of your MSP business and simplify renewals, while reducing time spent on reporting | | |
Offer more services and reduce protection management burden
The Advanced Management pack helps you expand your cyber protection services with integrated patch management while reducing time and effort needed to ensure your client workloads are protected.
---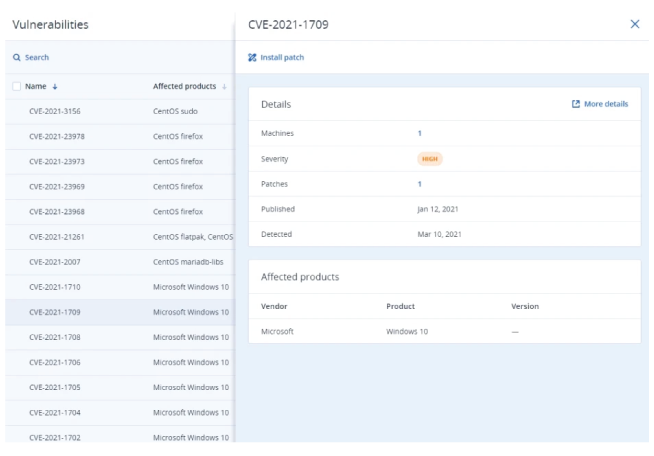 Enhance your services with patch management
Analytics tools
Keep systems up-to-date to proactively prevent attacks taking advantage of system vulnerabilities and remediate gaps in client's defenses. Provide better patch management services while using fewer resources by automating the process.
---
Streamline your workflows
Mobile ready
Gain enhanced visibility over data protection, assets and applications with predictive reporting to ease and increase the efficiency of work planning. Proactively minimize unplanned downtime due to disk or patch failure. Save time and effort by scheduling reports.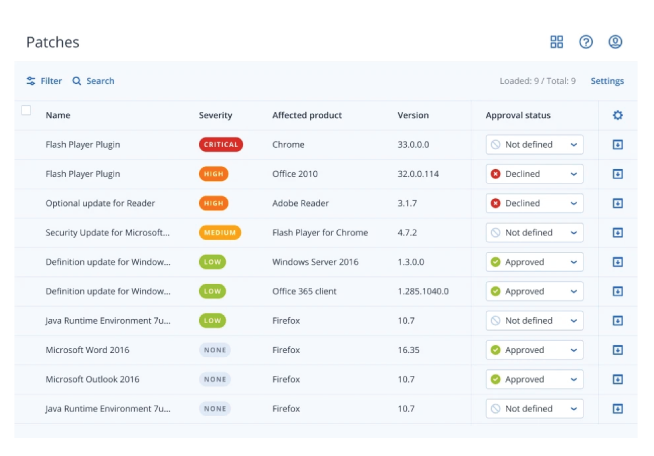 ---
---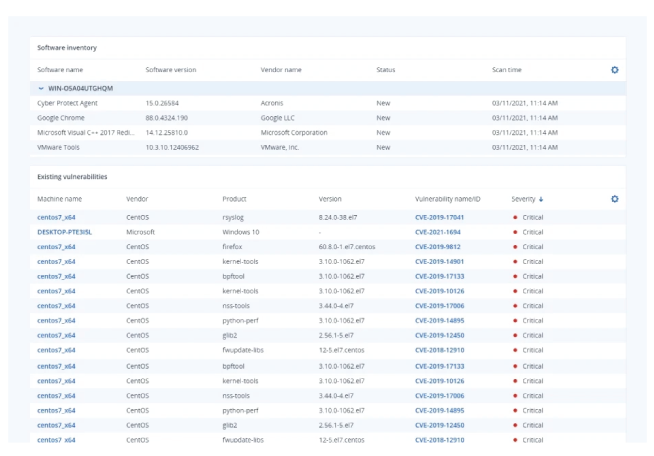 Save resources with integrated patch management
Analytics tools
Focus on client protection instead of managing multiple data security solutions. Integrated cybersecurity, data protection, endpoint management, and patch management capabilities enable you to deploy your resources more effectively and efficiently and cut costs.
Additional workloads

Microsoft SQL Server clusters
Microsoft Exchange clusters
MariaDB
MySQL
Oracle DB
SAP HANA
---
Extend patch management to 200+ third-party applications
Keep Windows and third-party Windows software up-to-date with patch management for more than 200 supported products. Prioritized patching for collaboration apps minimizes remote work threats.
---




---




---


---
Seamless integrations and automation
Mobile ready
Easing administrative efforts, Acronis Cyber Protect Cloud natively integrates with commonly used systems by service providers such as RMM and PSA tools, hosting control panels, and billing systems. Custom integrations and automation are also possible through a set of RESTful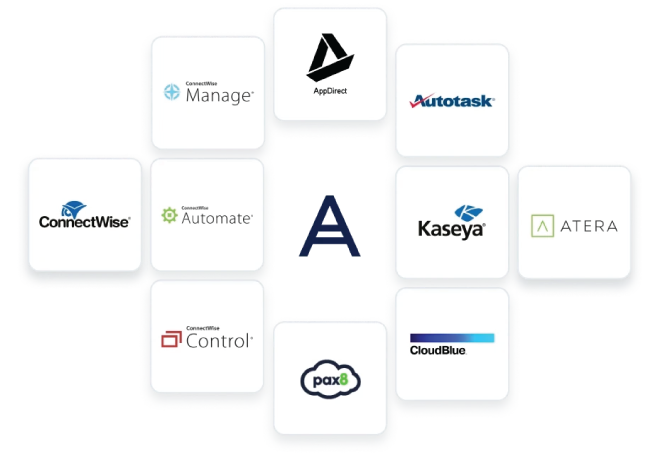 ---
Easily deliver up-to-date endpoint protection
---
Centralized patch
management
Secure your clients' business environment and reduce the risk of attack by fixing known vulnerabilities before they become issues. Schedule or manually deploy patches to keep clients safe with patch management for Microsoft and third-party
software on Windows.
Fail-safe
patching
Prevent bad patches from rendering the system unstable. Before applying
a patch, automatically create an
image backup of the system to
ensure you can revert to a working state in case of patch failure.
Drive health
monitoring
Avoid unpredicted data loss and proactively improve uptime by monitoring drive health. Leverage
our machine learning technology to predict disk issues and get alerts to take the precautionary measures needed to protect client data.
Software inventory
collection
Ease tracking and work planning with deep visibility into the software inventory. Scan client machines automatically or on-demand to discover all of the software installed and track changes. Browse and filter software assets by multiple criteria, generate reports, and delete records once a machine is removed.
Innovative leader in the data protection industry
---